This Baked Apple Recipe is not only fast, easy, and delicious; but it also makes the whole house smell great! The baked apples from this recipe (as with most of the others cooked in my pottery apple bakers) can be served as a side dish, a snack, or a dessert.
To start off you're going to need a set of my Pottery Apple Bakers. The one pictured in the recipe below is finished with Grape Glaze on White Hawk. A variety of pottery apple bakers are available in my online catalog. If you don't already have them CLICK HERE TO OPEN MY CATALOG.
To bake one apple you will need:
1 Pottery Apple Baker
1 Fresh Apple (I prefer Granny Smith Apples for this recipe)
1 Tablespoon of Butter
1 Tablespoon of Light Brown Sugar
½ Teaspoon of Ground Cinnamon
¼ Teaspoon of Ground Allspice
¼ Teaspoon of Ground Cloves
Preheat the oven to 350 degrees.
Peel and core the apples.
Place the apples into the pottery apple bakers so that the spike in the middle goes straight up through the open core of the apple.
Top the apples (some in the open core, some around the outside) with the butter, brown sugar, cinnamon, allspice, and cloves.
Carefully place the pottery apple bakers containing the ingredients into the 350 degree oven.
Leave the Pottery Apple Bakers in the oven for 25 minutes (a bit longer if you're using a really big apple). The spike in the center of the pottery apple baker will conduct the heat up into the center of the apple allowing it to cook quickly and more evenly.
Using an oven mitt, carefully remove the pottery apple bakers from the hot oven. Use a fork to transfer the baked apples to a cutting board and cut them into bite sized pieces. Then pour the remaining juices from the bottom of the pottery apple bakers over the top of the baked apple pieces.



Serve it straight up as a warm and yummy side dish, or top the baked apples with vanilla ice cream to make it into a fantastic fall dessert.
Clean up is super easy too. If you put hot pottery into cold water it may crack. So let the Pottery Apple Bakers cool for about 10 minutes and then put them right into the dishwasher.
I hope you enjoy this baked apple recipe and check my home page for more on Pottery Apple Bakers. Also check out my Pottery Devil Face Jug.
This Easy Recipe using my handy Pottery Apple Bakers is part of the "Works for Me Wednesday: Kitchen Organization Edition" at the blog Rocks in My Dryer. Please give them a visit.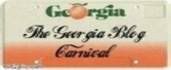 This article was also submitted to the Georgia Blog Carnival.